Mumbai is a city in India that's a little different compared to the other cities in the country. There are not as many historical sights and it can be said that it is a little more modern. However, this does not mean that the place lacks in tourist spots and unique places because it definitely is still a sight to see. Whether you are looking for relaxing beaches or an exciting Bollywood feel, Mumbai is definitely a city that should not be overlooked. In order to spend the perfect day in Mumbai, then you need to give these few places a shot.
• Breakfast At The Market
There are plenty of restaurants in Mumbai and most of them garner a lot of tourists but sometimes the local and least known places are more enjoyable. By going to the markets and bazaars, you will be able to enjoy the colorful atmosphere that's rarely seen in other countries. The bazaar and market area is mainly for street shopping but you will be able to find little places that will sell great Indian food at a very affordable price. While you are eating your food, you will be able to view some amazing architecture and it is a wonderful way to start your morning.
• Adventures In The Caves
Compared to the city like area and the modern feeling, there is still a beautiful national park that tourists cannot miss out on. It is definitely worth checking out and you will be able to enjoy Buddhist caves the were carved into volcanic rock. There are other caves in the area and another spot would be on Elephanta Island.
• Bollywood
Bollywood and the film industry is definitely getting popular all over the would and Mumbai is actually right in the center of all of this. If you want to watch a Bollywood movie, then the Eros Cinema is just around the corner and make for some amazing and memorable pictures and videos. It is actually possible the you can go on a tour of the Film City and witness what goes on behind the scenes. If you are lucky, you will be able to watch a crew filming their latest Bollywood movie.
• The Gateway Of India
Every tourist that visits Mumbai must visit the Gateway of India and it is easily the most popular monument in the country. It has been there for almost a century now and it is a symbol of the British Raj era. Though it can be loud and raucous in the area, the monument is still worth visiting. You will also be able to try some great snacks as vendors are always going to be in the area selling things from Indian tea to even balloons.
• End The Day At The Beach
Your day was full of great food, amazing sights, and a bunch of places that you never thought you'd ever see and there's no better way to end it but to simply lay back at the beach and relax. Juhu & Marine Drive Chowpatty beaches are very popular among the locals this is the best place to cool down after a long day. Once you think that your day of great food is over, you'll see that there will also be food stalls and vendors that will offer you some snacks. Some of the foods that you might find are corn on the cob, bhel puri, pay bhaji, pain puri, and much more. These beaches are very near Mumbai and will only be a short drive.
India is such a unique country and the same can be said about Mumbai. Mumbai is so different compared to all the other cities in India but this is a good thing because it is a whole new experience. Any tourist that visits India will admit that Mumbai is one of their favorite cities because of how unique it is. From Bollywood to the exciting bazaars, you will always find something to do. The locals are very welcoming and so this is something that you should be happy about because they will do their very best to help you out. During my trip to Mumbai, I realized that India is definitely a great country to visit and I will be back again one day.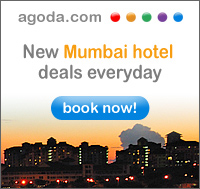 ---