Bangkok, The City of Angels or "Krungthep" in Thai, is the capital city of Thailand. Bangkok is the core for most of the marketable and economical activities of the Kingdom. Simultaneously, the City is very eminent and appreciated by visitors for its adaptability and numerous points of interests. From temples, the Grand Palace, all the way over the some of Asia's leading shopping centers and the largest outdoor market of Asia (Chatuchak), Bangkok certainly has what it takes to entertain visitors from all origins, either first time or return travelers. Whilst Taxi fares are very practical, most of the sightseeing can happily be reached by Skytrain (BTS) or Underground train (MRT). Aside of the sightseeing and shopping, Bangkok has developed into a magnet for food lovers of all origins. The same series of choice applies to the accommodation options all over town, from high end international chain hotels to family run guesthouses; demands of all travelers are met. In terms of wellness and leisure – Bangkok has recently seen a huge development of city Spas and Wellness centers, in addition to the long established Thai massage centers.
Silom, Sukhumvit, Siam / Rajdamri, Chinatown, Khao San Road are the best known areas of Bangkok. Where, Silom Road was in the past the main trading district for a long time and many shop houses are still facing the roads in the area, Sukhumvit Road has become the capital's main commercial axis, often refered to as the city center. The many small streets crisscrossing the area are home to a wide selection of restaurants, small cozy hotels as well as some nightclubs, whereas the main street front areas are populated with luxury hotels and a number of tailor shops, Siam Square covers probably the needs of any shoppers heading to Bangkok. All Luxury brands are well represented in Asia's largest shopping mall, Paragon, located next to Siam Center and Siam Discovery, all on the Northern side of the Siam Skytrain (BTS) station, Khao San Road is the best know area among backpackers and budget travelers in Bangkok. Scores of tourists from all origins are populating the numerous guesthouses and small hotels at any given time of the year.
Being the capital of a Buddhist country Bangkok offers an abundance of Wats (Temples) including the most famous Temple of the Emerald Buddha – or Wat Pra Kaeo. It is the holiest temple in Thailand and the green-jade Buddha statue in the chapel is the most sacred Buddha image in Thailand while Wat Po is the oldest and largest monastery of the 400 found in the city.Apart from Thai temples one can find Chinese and Hindu temples like the Maha Uma Devi Temple as well as churches of all believes and mosques. There is a entire freedom of worship, illustrated by the role of the King as protector of all religions. Engross yourself in the splendor of Buddhist temples (wats), spotting swanlike chofa finials, ornate gables, roofs of green and orange tiles, crown-like windows, conical chedi (stupas) clad in gold, stucco or ceramic mosaic, or leaf-shaped sema boundary stones around the bot (chapel). Wat Kalayanamit houses Thailand's largest indoor sitting Buddha (15 metres/49 feet high) – it also boasts its highest chofa (roof finial) and biggest bell. Wat Suthat, Bangkok's tallest vihaan, houses another awe-inducing Buddha, the 8m (26ft) Phra Sri Sakyamuni Buddha. At Wat Benchamabophit all stylistic periods of Buddha images can be seen in the cloister.
Bangkok's parks and gardens offer a welcome respite from the heat and noise of the city. Bangkok's largest and most well-known is Lumphini Park. Distinguished as Bangkok's Central Park. Chatuchak Park and Rama IX Park are two of Bangkok's second largest parks. Built in the past 50 years they cater to Bangkok's suburban population and are gigantic and include botanic gardens, sports clubs and complexes, English/French/Japanese gardens as well as large ponds and lakes. Other famous parks include Queen Sirikit Park near Lat Yao, Benchasiri Park on Sukhumvit, Saranrom Park across the Grand Palace, Sanam Luang, Suan Romaneenat, and Dusit Park.
You can't visit Bangkok without eating Thai food. Thai food is so diverse and so incredibly exciting to the taste buds, that whatever you come across should be eaten. That being said, here are a few things you shouldn't miss:-
Som Tam – This is the eminent Thai green papaya salad which includes shredded green papaya, tomatoes, dried shrimp, garlic, and chillies. The ingredients are minced together in a mortar and pestle and dressed in palm sugar, fish sauce, and lots of lime juice.
Khao Neow Moo Ping – There's no better snack on the streets of Bangkok than a few skewers of freshly grilled pork paired with a bag full of sticky rice!
Boat Noodles – They are small bowls of rice noodles lightened with water morning glory, and smothered in rich pork broth.
Pad Kra Pao – Pad kra pao , the most generally available stir fried dish in Bangkok, is a choice of meat or seafood fried with garlic, chillies, and the all imperative holy basil. Placed over rice, with a fried egg on the side, this is one of the classic Thai street food dishes.
A prop of modern improvements overlook: sparkling malls, a long-overdue modern museum, the exceptional subway. Tranquil, this remains a sensory overload. Bangkok engulfs but never debilitates, forever bracing those who forgive its excesses.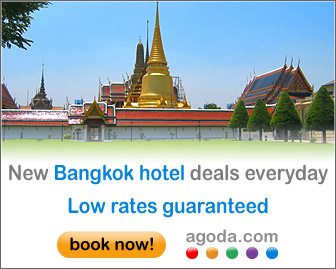 ---