The city state Singapore offers business travelers an excellent option to combine their trade show visit with travel to its tourist attractions. This offers several advantages because even family members can join during the business trip to this small, beautiful and well-organized country. There are many tourist attractions in Singapore that can be explored. The country also offers a vibrant nightlife that rivals the nightlife scenes of major cities in other parts of the world. There are many shopping centers for all types of purchases. The city state shows the confluence of many Asian and other cultures. The tropical climate is most suitable for traveling around and visiting tourist attractions in comfort.
There are many places in Singapore that can be visited during a business trip. There are areas where colonial structures have been maintained in excellent condition. The modern high-rises and well-designed museums show this country's excellent architecture. It is not only a place of the skyscrapers but also a place that has one of the busiest ports in the world. The country is well-connected by air to most world cities. Many business travelers include a visit to this country even when planning a business trip to any of the nearby Southeast Asian countries.
While Singapore is a densely populated country, it is a well-organized city estate that offers different types of tourist attractions to all types of travelers. The country's colonial past is preserved well in the Riverside city district. The area has old buildings, statues, museums, theaters, bars and clubs. The tiny Sentosa Island is a great place to visit. There are so many things to view here that a person needs minimum one-day to visit all places here. There are even golf courses on this island for golf lovers. There are dolphin lagoon, animal and bird parks, underwater world, insect park, herb and spice garden, beaches, natures walk and Merlion park. Visitors can enjoy musical laser fountain show as well.
One of the most visited tourist destination in this country is The Singapore Zoo. Business persons traveling with kids cannot miss this place. It is a very spacious place where enclosures for animals have been designed to simulate their natural habitat. There are almost one hundred different species of exotic animals in the zoo. These animals include tigers, lions, leopards, Asian elephants and polar bears. Singapore is not only about modern skyscrapers, it also has one of the best botanical gardens. The Singapore Botanical Garden is a scenic and lush park located in the heart of the city. It is a good picnic spot and offers a relaxing environment for visitors.
Travelers to this country do not have to limit their business trip only to sightseeing. There is Orchard Road which is a shopper's paradise. A wide range of products are sold here and many shops in this area remain open round the clock. This shopping area is connected well to most parts of the city by public transport. From branded goods and clothes to electronic goods and furniture, everything can be found here.
The Singapore Changi Village offers a good place to enjoy a variety of foods and drinks. Different types of cuisines are served in various food centers located here. This area is also known for its ferry terminals and center terminal. Those who want to complement their business trip with some snorkeling and air diving type adventure experience can visit Sisters Island. There are many such adventure activities that can be enjoyed at this place. Visitors can experience the cultural varieties of Singapore by visiting its Chinatown, Arab Street and Little India. In these areas, visitors can see the variety in community and culture. These places also have shopping centers that sell items like jewelry, spices, gift items and ethnic clothes.
The business trip to Singapore can be enjoyed in complete comfort because there are a wide range of hotels to serve all levels of visitors. From simple accommodations to five star hotels, there are all types of accommodation for tradeshow visitors. These places also offer meeting areas and can help organize small or large conferences. The hotel rooms offer excellent customer services. Clean and well-maintained rooms have wireless Internet, voice mail and safe deposit box facilities. Accommodations are available for family as well as for individual visitors. It is time to visit this city estate and experience its tourist attractions during a business visit.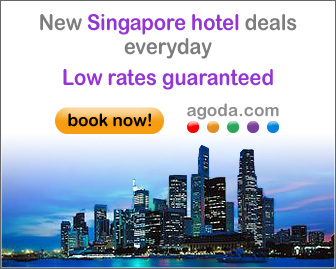 ---