Phnom Penh is the exciting vibrant capital of Cambodia. It is located at the confluence of three rivers, the Bassac, the mighty Mekong and the great Tonle Sap, it was once regarded the "Gem" of Indochina. It is often only a whistle quit for many tourists who just quit by on their way to Angkor Wat. Phnom Penh these days is practically unrecognizable to the Phnom Penh of 10 decades ago.
These days there are decent streets, contemporary cafes and restaurants, shopping centers, many high-rise buildings and many traditional attractions. As opposed to other Asian places, such as Phnom Penh is the perfect sized town and much more enjoyable.
The Tuol Sleng Genocide Museum is a former school, helpful to be one of the most intense re-education camps in Cambodia, where many individuals got tortured and killed. Most criminals were then purchased to the Killing Fields just out of Phnom Penh.
There are also a variety of wonderful temples spread around Phnom Penh. You will not discover many visitors viewing these temples, so most of enough time you will have them all to yourself. The most popular one is Wat Phnom, where Phnom Penh purportedly established in 1422.
Khmer food is not very popular outside of Cambodia, but it is absolutely worth trying. Road food can be discovered everywhere in Phnom Penh, as providers have mobile kitchens connected to their bikes and so are able to make meals anywhere they stop. If you are a vegetarian I suggest K'nyay Cafe, which provides vegetarian and uncommon regional areas of expertise, like banana curries.
There are many greatest occasions celebrated each season in Phnom Penh. One of the popular events is the Water Festival in Oct. The 3-day event is of great importance as it enjoys the end of rainy season. Another big occasion is the Royal Ploughing Ceremony, which represents the starting of the rice growing season.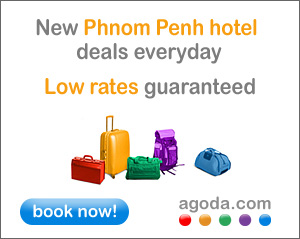 ---