It's a sad and unfortunate fact that many travelers don't put Taiwan high on their travel wish list, it may be the most underrated of all the South East Asian countries. To emphasize the missed opportunities of skipping a connection in Taipei, I've put together enough things to do in Taiwan to keep you busy for half a day or half a year. If you're on your way to Asia and are even meekly adventurous Taiwan will rapidly surprise you. Taipei City, the capital of Taiwan, offers one of the widest selections of cheap and easy day trips out of any Asian metropolis. The Taiwanese capital at the northern tip of the island is right next to incredible natural escapes as well as rowdy towns and markets. Everything is just a short train or MRT ride away. Towering above the city like the gigantic bamboo stalk it was designed to resemble, Taipei 101 is impossible to miss. At 508m, Taipei International Financial Centre 101, as it's officially named, is the world's tallest building. In addition to holding the world record for height, Taipei 101 also holds the record for having the world's fastest elevator. The pressure-controlled lift travels at 1010 meters per minute and takes 40 seconds to get from ground level to the 89th floor observation deck.
Shopping also is a reason to visit Taiwan in and of itself. Night markets, department stores, pedestrian-only streets and bazaars, with bars and restaurants to cool the heels really make Taipei a shoppers Mecca. The city is evenly as cosmopolitan and good looking as any place in Tokyo or Hong Kong.
Ride on this historic narrow-gauge Alishan railway up the hill from the rice paddies of the lowlands, traversing tunnels and bridges up to the lush evergreen forests at 7300+ feet. You won't even need to remember to pack your childish wonder. It'll just be there.
Also Visit Taroko National Park, its Taiwan's most visited park, but don't let that stop you. The Gorge is a perpetual crowd-pleaser and deserves to be witnessed directly. If you thought you were immune to the romanticism of nature, try these 500-foot cliffs, cascading waterfalls and mist-shrouded forests on for size.
Apart from this, there are more than 150 separate hot springs scattered throughout the country of Taiwan, and with the volcanic mountains it's not hard to figure out why. Vulcan likes hot water! Many of these springs' waters are piped right into local hotel rooms and spas. Two of the most popular are Wulai and Yangmingshan, up in the Volcanic National Park, both less than an hour from Taipei.
Occupying a saddle area between Seven Stars Mountain and another smaller hill, Yangmingshan National Park is a large, colorful garden full of mountain flowers and shaded by many trees. It is also a romantic spot to enjoy the sunset. The Yangmingshan National Park Visitors' Center, a short walk from the park, has photos, maps and displays (labeled in Chinese only) detailing the park's fauna and flora. Day hikes abound in the mountain and the paths are posted with maps and signage to help show the way.
The once booming mining towns of Jiufen and Jinguashi are alive and kicking again these days. Crowds of domestic and international tourists flood here to enjoy dazzling views of the Pacific, fine trekking opportunities, shopping and snacking. The focal point of Jiufen is Jishan Street, a narrow market strip that twists through town. Everyone is keen to sample Jiufen's specialty, the squishy taro and sweet potato balls that are served hot in sweet soup or cold over shaved ice. If the food-mad crowds get to you, stop for a break in one of the quiet teashops-with-a-view or move on to Jinguashi. The Gold Ecological Park at Jinguashi details the mining history of the town. The park's Benshan Fifth Tunnel will take visitors into the mines to give a feel of how miners worked in the past. Jinguashi's visitors also flock to the Gold Waterfall where minerals in the water give it a golden shine.
When it comes to good nightlife, Taipei doesn't lag behind other capital cities. The restaurants officially shut down at 21:30 but bars remain open till very late. The chief nightlife spots in the major city are clubs, discothèques, piano pubs, music lounges, karaoke bar, jazz clubs and bottle clubs. The concept of bottle clubs is relatively new; simply buy a bottle, label it with your name and come back to drink whenever you want. The best nightlife joints are on the east and the west Taipei, which includes the Anho Road and Shi-men Ting. West Taipei embraces all kinds of clubs from huge pubs to small and crowded tea and coffee houses in narrow alleys.
I hope now you can add Taiwan and its vibrant city "TAIPEI" in your travel wish list.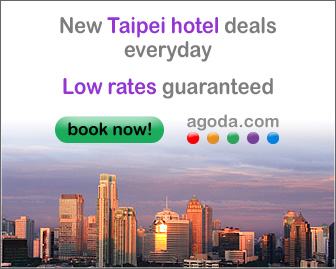 ---